Minimising the risk of Covid-19 when we re-open our doors on 4th July
The welfare of our guests and staff has always been our first priority. We are working hard to ensure that, when you are able to visit us again, you can rest assured we have the necessary precautions in place to minimise the risk of Covid-19 to keep you and your loved ones safe. However, we are reliant on everyone doing their bit to respect the new legislation and guidelines so you can enjoy the greater freedom which awaits you in south Devon.
As we enter into these new unchartered waters, the hotel will be operating under very different circumstances with layer upon layer of new processes, procedures and guidelines in place to ensure your safety and wellbeing and that of our teams working during your stay. We ask for your understanding and, most of all, patience during this time as we all come to terms with this new way of working and, dare I say it, the 'new normal'.
There will almost certainly be some bumps in the road as we all adjust, and it may take time for some things to bed in, but please remember that our number one priority in everything we do (no matter how crazy it may seem) is to provide an environment that offers maximum protection for all hotel patrons, visitors and staff.
Please note that these processes and guidelines are under constant review and are subject to change in line with government regulations.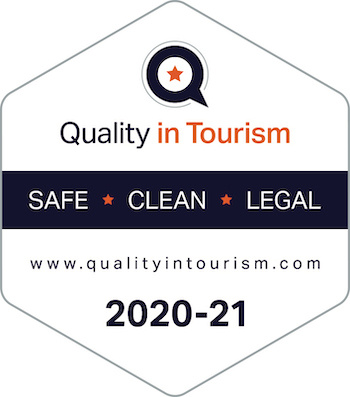 We have been working closely with Best Western and England Quality in Tourism to ensure our health and safety standards policies, practices, training and guest experience meets the required standards. We are delighted to announce that we have achieved the standards required and have been awarded the industry standards "kite mark" confirming that we are "safe, clean and legal".
Pre-arrival
You can book your stay at Best Western The Dartmouth Hotel, Golf & Spa online at thedartmouthhotel.co.uk or by calling our reservations team on 01803 712686.
We recommend that you read through the revised procedures prior to booking and that if you are displaying symptoms of Covid-19, you call us in advance to postpone your stay.
If you have booked directly with us, our reservations team will contact you via automated email prior to your stay to advise you of our latest Covid-19 procedures and to provide information on places to visit during your stay. We will email you with our online check in registration form which we ask that you complete prior to your arrival, to allow for a fast, efficient and reduced-contact experience.
Arrival & check-in
On your arrival, we will ask you for your email address and mobile number, should we need to contact you during your stay.
You will notice that we have signage in place throughout the hotel which outline the guidelines that we have in place to protect you and your team. We have also added Perspex screens at our reception and we have hand-sanitising stations in place at the hotel entrance and in the reception areas. We ask that you use these stations when entering and leaving the hotel.
Our check in process has been streamlined to allow for a fast and reduced contact experience. We will only be able to accept debit or credit cards as payment for the foreseeable future. Our check in time remains the same at 3.00pm.
Our reception areas have also been reconfigured to ensure that social distancing of a minimum of 2 metres can be maintained at all times. All surfaces, screens, door handles and equipment will be regularly cleaned and sanitised throughout the day and checked by our appointed 'Covid-19 Officer'. During these unprecedented times, we have been advised against handling your luggage or belongings, showing you around the hotel or to your room. However, we will always be on hand to help and will ensure that we do so with your safety in mind.
If you have any special requirements, please let us know before you arrive so that we can make the necessary preparations for you.
If you need any assistance during your stay, please contact reception
Common areas
We have hand sanitising stations situated throughout the hotel for you to use and we ask that you use them when entering or leaving the hotel. Extensive cleaning will be implemented throughout the day and will be checked by our appointed Covid-19 officer.
Our Public bathrooms have been equipped with sanitising handwash at the basins and disposable paper towels have been implemented and hand driers disconnected.
To avoid overcrowding of the public bathrooms, we ask that you use the bathroom in your hotel room wherever possible for your convenience.
Signage has been put in place with guidance on using our lift. You are welcome to use our lifts, but would ask that no more than 2 people in the lift at anyone time and must be from the same household. We will ensure that they are regularly sanitised. In addition, a hand sanitiser station is situated by the lift on each floor.
Hotel Bedrooms & Bathrooms
Every guest bedroom and en-suite will be fully sanitised before each stay and sealed to ensure no contamination occurs prior to your arrival. Fabric items such as mattresses, pillows, cushions and carpets will be sprayed with an approved sanitising solution, which is effective in killing Covid-19 but is harmless to you and to us.
All surfaces will be wiped down and cleaned thoroughly prior to your arrival. All our linen and towels are professionally laundered at a high temperature with added sanitisation.
Minimal printed material in your room has been laminated and will be sanitised before and after your stay. Our housekeeping team undergo strict sanitisation prior to starting work and will wear appropriate PPE during cleaning.
Guest room tera and coffee station will include only single use disposable coffee/tea, wrapped sugars, portion milk, stir sticks and disposable cups.
No Service – For all stayover guests. However, guest rooms are to be checked daily.
Upon guest request only: Tidy service or Full Clean Service. Ask the guest(s) to leave the room during any stay over service if possible, to limit contact.
If you would prefer housekeeping not to enter your room during your stay, please let us know when you check in.
Food & Drink
When you stay with us you may wish to dine in your room, which we are able to accommodate or, where guidance and regulations permit, in the designated dining areas. We have extended our dining spaces to ensure that all diners are a minimum of 2 metres apart, by moving our entire food and beverage operation to the first floor of our main building. There is a very large outside patio space, ideal for alfresco dining. We can also offer flexible dining configurations based on your household size.
We will be offering a continental or pre plated cooked breakfast. All our menus have been reduced as we accommodate both legislation and social distancing in the kitchen for our chefs.
Bar service – we will be offering both bar and full table service in our dining facilities.
Drinks from the bar will be ordered and paid for at the time of ordering, drinks will then be placed on a "holding table" whereupon the guests will be asked to collect their own drinks and return to their table or social distancing space.
We respectfully ask that all food and drink purchases are paid for by card as we are unable to handle cash.
Our kitchen and waiting staff have been fully trained in our new procedures and will also wear appropriate PPE at all times.
Departure & check out
On the day of your departure, we ask that you return your room card to reception and place this in the box for used room cards located in the reception area.
We have implemented an express check out service in an electronic/digital format only for all guests unless we are requested otherwise.